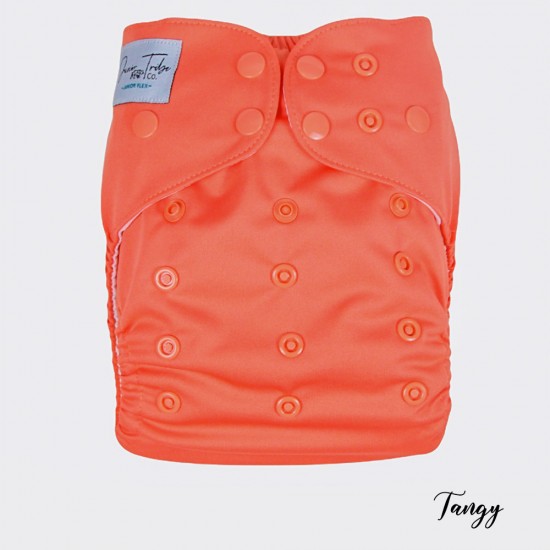 Junior Tribe Co Junior Flex - OSFM / All-In-Two / Pocket Nappy
Or 6 weekly interest free
payments from $6.32
with
what's this?
Ex Tax: $37.95
Price in reward points: 76
Stock:

In Stock

Reward Points:

2

Model:

JT-JFCN-001
Junior Tribe Co
Junior Flex nappies by Junior Tribe Co are very soft and absorbent and easy to reuse.
A one-size-fits-most nappy with a fit guide of approximately 4-16kg+
Use as an all-in-two or pocket nappy - you choose what suits you.

INSERTS:
Each nappy comes with a bamboo/hemp insert set which can easily be removed, washed and clipped on again.
The set includes an original design anchor snake style insert along with a snap-on booster.
The snake insert (2 layers of hemp fleece and 1 layer of heavy bamboo fleece) can be snapped into the nappy as an Ai2 or stuffed inside the pocket. The fabric layers are configured so that the bamboo fleece, which is beautifully soft, sits against baby's skin and the hemp layers on the bottom soaking up all the liquid.
The small bamboo booster snaps to the snake insert. The inserts can be folded/configured to provide 6, 9 or 11 layers of absorbency.

They have been designed to last wash after wash, with minimal shrinkage and warping. Its unique features allow for full customisation, allowing the absorption to be tailored where it's needed the most.
An advantage of snake-style inserts is that you can unfold when hanging to dry meaning you can get away with less layers, allowing for faster drying time, but still benefit from superior absorbency when you fold the insert. A great choice for New Zealand winter weather.
FEATURES:
athletic wicking jersey inner lining
hidden back opening pocket
wide back elastic
tummy elastic
sewn in tummy leak guard panel
4 rise snap settings
cross-over wing snaps
bottom hip snaps
double row of waist snaps
These nappies are super easy to adjust to get the perfect fit for your baby.
Reusable Cloth Nappies
Closure Style
Snaps
Extra Features
- athletic wicking jersey inner lining - hidden back opening pocket - wide back elastic - tummy elastic - sewn in tummy leak guard panel - 4 rise snap settings - cross-over wing snaps - bottom hip snaps - double row of waist snaps
Fit Guide
Approx 4-16kg+
Inserts
Bamboo/Hemp insert set Includes anchor snake style insert (2 layers hemp fleece, 1 layer bamboo fleece) Plus bamboo snap on booster
Size
OSFM
Type
Pocket / AI2 (snap-in)