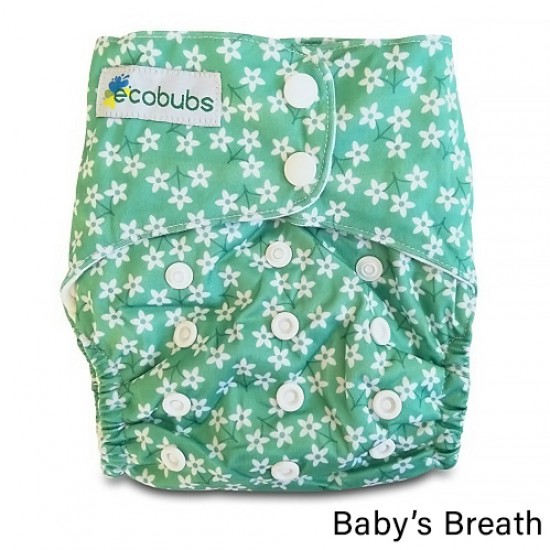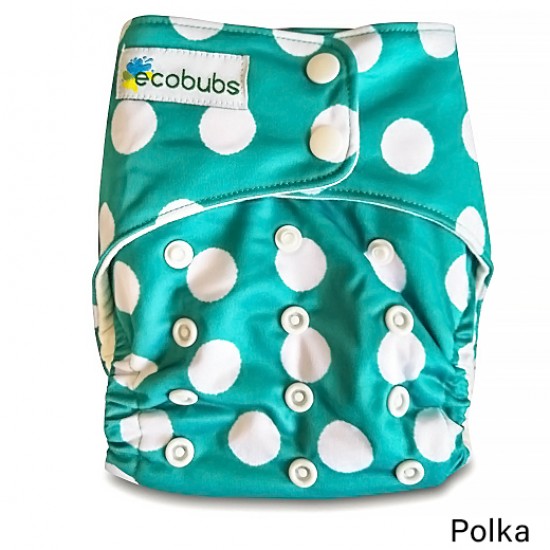 Ecobubs Essentials OSFM AI2 Nappy (with a hip snap)
Ex Tax: $25.00
Price in reward points: 50
Or 6 weekly interest free
payments from $4.16
with
what's this?
Stock:

In Stock

Reward Points:

2

Model:

NH-EBE-001
Ecobubs Essentials cloth nappies with a hip snap to help with a better fit on smaller babies.
Don't want a hip snap - check out the Ecobubs Essentials V2.
Features:
One size fits most with a size guide to fit approximately 4kg to 16kg
The lining is made with natural bamboo/organic cotton which provides extra absorbency
All-in-Two nappy with snap-in inserts and also a front opening pocket to either use as a pocket nappy or add extra absorbency as needed
Front snapping with 2 rows of snaps for a great fit around the waist and legs
2 thirsty snap-in bamboo/organic cotton inserts included with every nappy (one large, one small)
hip snap
This is a birth to toilet training nappy. Use the small insert for the newborn days, use the large insert as your baby grows and needs more absorbency. Use both inserts together for heavy wetters, long naps or overnight.
Designed in NZ. Ethically made in China.

Please note: Images are to show prints and colours. Some images show a hip snap while others don't. The hip snap will depend on which option you have chosen.
Reusable Cloth Nappies
Size
OSFM
Fit Guide
Approx 4kg - 16kg
Type
AI2 (pocket nappy or snap-in)
Insert(s)
1 x small 4 layer bamboo/organic cotton 1 x large 6 layer bamboo/organic cotton
Closure Style
Snaps
Features
Natural fibre inserts and lining PUL tummy panel