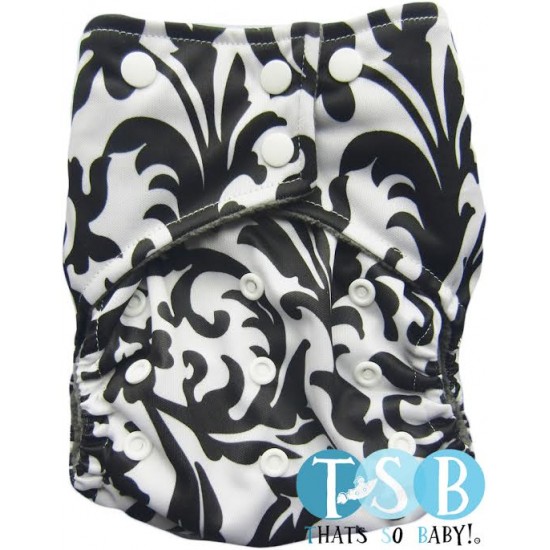 Thats So Baby Bamboo Charcoal Reusable Nappies
Something a little different to the usual MCN materials Charcoal really is a super absorbent option - perfect for nappies. Drawing moisture away from skin and keeping baby dry. Try these nappies out - I am sure you will be impressed!
Breathable, waterproof outer made in 100% PUL, with a 100% Bamboo Charcoal inner, the best of both worlds!
Each nappy comes with 1 dome in insert - 2 layers microfiber & 2 layers bamboo charcoal. Inserts have super absorbency and snaps in at the front to prevent movement!
You might like to purchase extra inserts to boost the absorbency of your nappy - particularly for older children. Extra Charcoal inserts available or try a Peapod or Cherub Tree trifold perhaps?

Why you will love this nappy:
• Moves moisture away from babies bum to keep them super dry - helping to prevent nappy rash.
• Double gussets work to keep everything in the nappy!
• Double rows of snaps around the waist and 4 size adjustable gussets in the front means these nappies are a good fit right from birth to toilet training!
• These nappies dry really fast after washing! (about half the time of regular MCN tested by a very busy mum!)
• Double protection layer around babies belly to improve absorption & help prevent leaks.
• Grey colour prevents staining from showing.
• Natural qualities in bamboo charcoal neutralise the ammonia in bubs wee, minimising the smell.

WHAT IS BAMBOO CHARCOAL?
Great question – it is a fantastic fibre perfect for nappies! Charcoal bamboo is created by being burnt inside an oven at temperatures over 1000°C. This process creates a nano-particle called bamboo charcoal powder, which is then spun into charcoal bamboo fabric and used for products like cloth nappies and nappy inserts. Bamboo charcoal fabric has fantastic absorption properties. Bamboo charcoal powder acts much like carbon in a filtration system. Activated particles adhere to organic waste and in turn help remove it – this means your nappies will be cleaner thanks to the bamboo charcoal.
Did you know?
Bamboo Charcoal is:
• Hypoallergenic
• Naturally deodorizing
• Anti-bacterial
• Dark color doesn't show stains
Bamboo charcoal is excellent at keeping smells at bay – perfect for absorbing the 'wee' smell and because it is super absorbent it also helps keep babies bottom very dry.
Environmentally friendly nappy materials.
Bamboo grows very quickly. Did you know just a week's harvest is comparable to an entire season's harvest of cotton? It grows with much less irrigation than that what is needed to produce cotton, meaning that bamboo charcoal can be produced without greatly impacting on the environment – an easily sustainable resource.
Ex Tax: $19.95
Price in reward points: 40
Or 6 weekly interest free
payments from $3.32
with
what's this?
Stock:

In Stock

Reward Points:

1

SKU:

TSBN