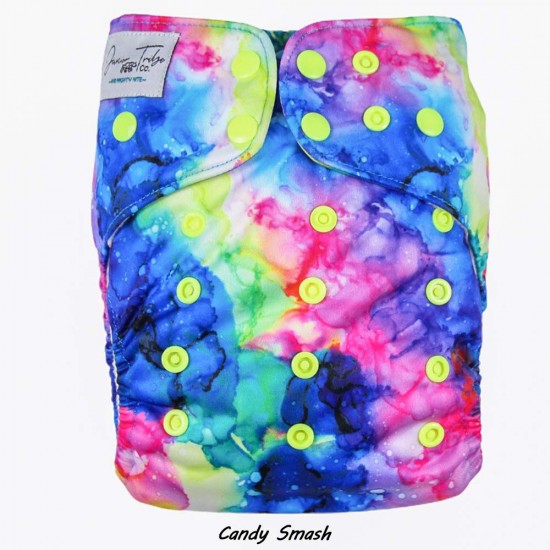 Junior Tribe Co Nighty Nite AIO Nappy
Ex Tax: $42.95
Price in reward points: 86
Or 6 weekly interest free
payments from $7.15
with
what's this?
Stock:

In Stock

Reward Points:

2

Model:

JT-NNNN-001
Junior Tribe Co
Nighty Nite all-in-one (AIO) nappy is Junior Tribe Co's version of an overnight nappy.
They are very soft and absorbent and easy to reuse and offer superior absorbency.
FEATURES:
Sewn-in bamboo terry absorbent core
Microfleece stay-dry inner lining
Up to 14 layers of absorbency
Double pocket opening for easy stuffing
Wide back elastic

Tummy elastic
Back and front leak guards that you can tuck inserts under to reduce moisture wicking onto clothes
4 rise snap settings
Cross-over wing snaps
Bottom hip snaps
Double row of waist snaps
INSERTS:

Each Nighty Nites nappy has a sewn-in 2 layer bamboo terry core.
Along with the option to choose between 2 insert sets:
Bamboo and hemp trifold which can easily be removed, washed and snapped on again. Plus a booster.
The trifold has 2 layers of hemp fleece and 1 layer bamboo fleece. Folded into 3 gives you 12 layers of absorbency (including the absorbent core).
The booster is also made up of 2 layers of hemp fleece and 1 layer bamboo fleece. Add this to the trifold and you have 14 layers of absorbency!


Bamboo and hemp extra long snake-style insert that can be snapped into place or stuffed into the nappy pocket. Plus a booster.
The same as the trifold, both the snake insert and booster feature 2 layers of hemp fleece and 1 layer of bamboo fleece.
With the snake insert being extra long you double it up and the extra length is folded where you need the most absorbency (e.g. front for boys and tummy sleepers, middle/back for girls) to create a third layer of absorbency. The insert, booster and built-in core give you 14 layers of absorbency.
Please note that the photos only show the trifold option.
Reusable Cloth Nappies
Size
OSFM
Fit Guide
Approx 4-16kg+
Type
Pocket / AI2 (snap-in)
Insert(s)
2 layers of sewn-in bamboo terry Plus Bamboo/Hemp insert set Includes either a trifold or extra long snake style insert (2 layers hemp fleece, 1 layer bamboo fleece) Plus bamboo/hemp booster (2 layers hemp fleece, 1 layer bamboo fleece)
Closure Style
Snaps
Features
Microfleece stay-dry inner lining Double pocket opening for easy stuffing Up to 14 layers of absorbency Wide back elastic Tummy elastic Back and front leak guards that you can tuck inserts under to reduce moisture-wicking onto clothes 4 rise snap settings Cross-over wing snaps Bottom hip snaps Double row of waist snaps
Tags:
Junior Tribe Co
,
AI2 nappy
,
reusable product
,
cloth nappy
,
snap-in nappy
,
OSFM nappy
,
tummy elastic
,
wide back elastic
,
leak guard
,
hip snaps
,
night nappy
,
pocket nappy