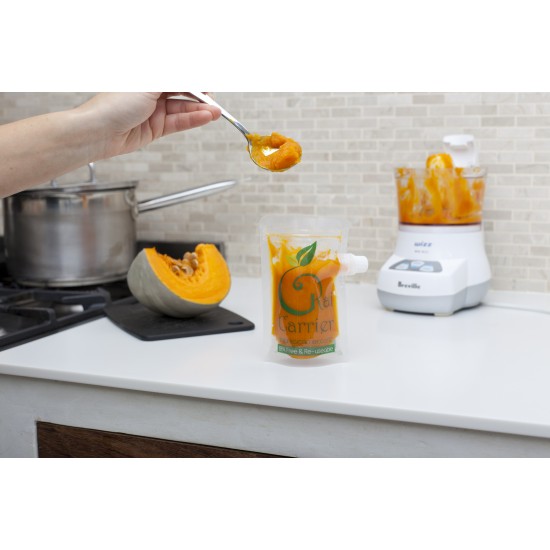 Kai Carrier 140ml
Ex Tax: $3.60
Price in reward points: 8
3Discount on order$3.33
5Discount on order$2.80
10Discount on order$2.30
20Discount on order$1.95
Kai Carrier
When you first receive your Kai carrier it may be a little stiff. Open the cap, seal the ziplock and blow air into the carrier so it expands.

Open the zip lock and use a spoon to push the gusset at the bottom flat from the inside. You should be able to stand your kai carrier on the bench and then they are ready to fill. Give them a wash in warm soapy water, let them dry and then get filling!
Some things to remember when filling your Kai Carrier…
1. Only fill your Kai Carrier to the bottom of the spout – this means it won't be overfull when trying to seal it up and allows for expansion if you are freezing you pouch.
2. Consistency of food should be what your child is used to. A little thicker for older children who like to squeeze things and a little thinner (like puree/apple sauce) for smaller children.
3. Mixing foods out of the Kai Carrier is best but you can give the food inside the pouch a stir to ensure you achieve a nice even taste – not yummy fruit at the top and plain water/rice at the bottom.
Use your kai carrier anywhere!
Remember that they aren't just for babies and children! Use them for sauces, mayonnaise and dips when you are travelling to a BBQ or potluck meal. They can be used at the gym for a quick nutritious snack on the go, in the car while you are hiking or camping and the best part is there is no need for messy spoons or bowls!
Lightweight and easy to pack. Great for kids lunchboxes, after sports, at the park and the zoo a quick and easy snack in the buggy or in the car. Try our spouts to make it even easier!

Cleaning:
Cleaning is a breeze. You can hand wash the pouches in warm soapy water and allow them to dry upside down, use a baby bottle brush to shift any stubborn food or try one of ours here – they even have a nice narrow end to get right to the bottom if needed!
Or simply give them a rinse and pop them in the top rack of your dishwasher. It pays to make sure all food is removed from around the top zip lock so that the seal is good next time you use them.

140ml ideal for small tummies and snacks on the go.
Also availabe in 300ml and 600ml sizes for older children and adults. Why not use them for pasta sauce in the freezer, baby puree, home made mayonnaise, soup, smoothies and so much more!
If you have a great recipe please share it with us so we can share it with others on our website and Facebook page!