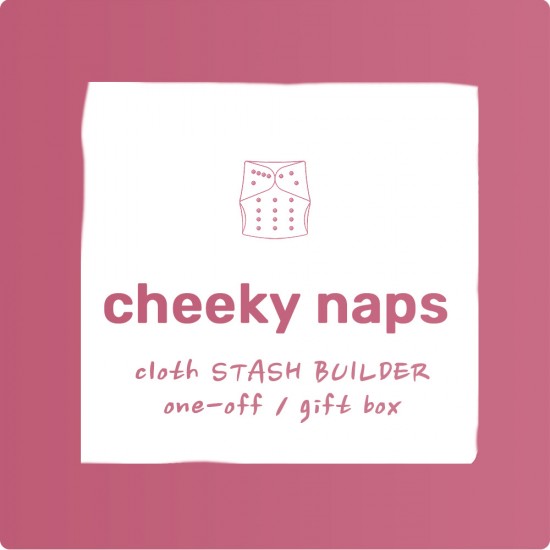 Cheeky Naps - Cloth STASH BUILDER Box (One-Off / Gift)
Or 6 weekly interest free
payments from $9.00
with
what's this?
Ex Tax: $54.00
Stock:

In Stock

Model:

CN-SBO0-001
Cheeky Naps Cloth STASH BUILDER is a cloth nappy box that includes:

2 x reusable nappies;
1-3 products related to cloth nappies (e.g. wet bags, cloth wipes, inserts etc)
The STASH BUILDER is great for helping you build up the number of nappies you have in your rotation as well as getting some handy accessories.
Please note that the 2 x nappies will be the same brand just different prints and at times different insert options when available. Of course if you like matching prints (perfect for twins) then please leave a comment in your order to let us know.
It is a discovery-style box intended to be a fun way of discovering products that you haven't tried before or receive more of the products and brands you may already love. You do not get to choose the specific products included in the order. We do this for you based on some choices (below) you make when selecting your Cheeky Naps box.
The contents of the boxes change on a monthly basis so you can buy more boxes in subsequent months to discover new products and brands.

The STASH BUILDER is currently only available as one-off boxes (so no ongoing subscription options sorry) but will be avialable every month while we trial these and gauge interest.

They make lovely gifts for someone who is interested in reusable nappies, especially if you can't make your mind up on what to buy.
(You may request a message to be included on a card with your order. Simply leave a note in the comment section of your order.)

NB: Shipment is based on a schedule as this is usually a subscription product. All orders will only be shipped out around the 5th of the month following your order date.
Please see our order and delivery schedule here. No orders are able to be sent earlier than this.
Choose between:
PUT IT IN A BOX: Want a perfectly packed box that looks amazing, a great option when buying as a gift, then choose to have your Cheeky Naps order arrive in a box for a small additional fee; or

WRAP IT UP: Ditch the box, save on cost by selecting to have your order arrive wrapped in brown craft paper and tied with jute twine.


Standard shipping is included in the price of the product, rural delivery does incur an unavoidable additional $5 fee.
Please ensure that you select rural delivery under the options (below) as well as under the "payment profiles" dropdown (below) so that your order can be processed.
We recommend opting for an alternative address to a rural address where possible - perhaps a business address.
There are no additional shipping costs added at checkout.
NB: Sometimes a more affordable option for rural shipping is available for certain addresses with different carriers. If you have no alternative delivery option, please get in touch so I can review pricing options for you. If a more affordable option is available, you may be able to go on a standard plan without the extra rural charge.
No rewards points are earned or redeemable to purchase Cheeky Naps products.
Please note that one-off boxes may be limited based on stock availability.