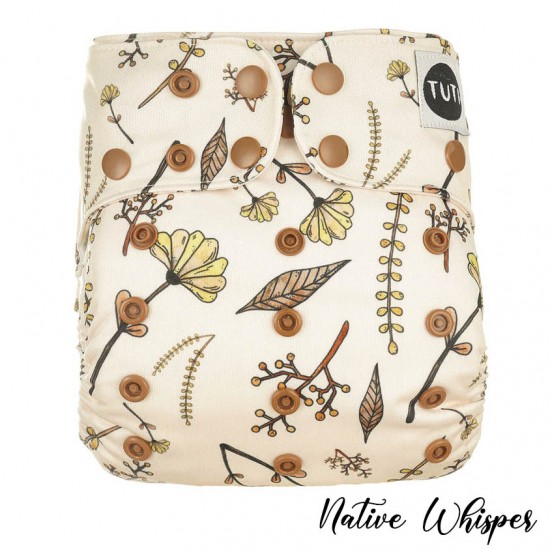 Tuti OSFM Nappy (2-in-1 : AI2 snap-in and pocket)
Ex Tax: $27.99
Price in reward points: 56
Or 6 weekly interest free
payments from $4.66
with
what's this?
Stock:

In Stock

Reward Points:

2

Model:

TU-2I1N-001
TUTI
Tuti nappies are premium custom-designed modern cloth nappies (MCN). The one size fits most (OSFM) design allows you to adjust the snap settings to fit through different stages from babies to toddlers with an approximate fit guide of 4-16 kgs.


Each nappy includes:

An original print waterproof PUL outer layer lined with a premium soft suede;
Two super thirsty, natural fibre inserts. One is longer meaning it can be doubled in the front for a boy or the middle for a girl to achieve maximum absorbency without leaking.
1 x 4 layer insert: bamboo fleece 80% bamboo, 20% fleece outer woven through for increased durability and absorbency plus 1 x 4 layer booster: hemp/cotton blend.
The inserts feature snaps that allow you to snap the inserts onto the nappy as an all-in-two (AI2) or simply stuff into the pocket via the back or front opening pocket.
Great value for money for a premium nappy.
Reusable Cloth Nappies
Size
OSFM
Fit Guide
Approximately 4kg - 16kg
Type
2-in-1 nappy with option to use as AI2 (snap-in) OR pocket
Insert(s)
1 x 4 layer bamboo fleece 80% bamboo, 20% fleece 1 x 4 layer hemp/cotton blend
Closure Style
Snaps
Features
Pocket or snap-in all-in-two, double opening pocket, PLU tummy leak guard, 4 rise snap settings, double row waist snaps, overlapping wing snaps, bottom hip snap
Tags:
Tuti
,
pocket nappies
,
snap nappies
,
AI2 nappies
,
bamboo inserts
,
hemp inserts
,
snap-in nappy
,
premium nappy
,
reusable nappy
,
cloth diaper
,
reusable diaper
,
cloth nappy
,
modern cloth nappy
,
cloth nappies NZ